Last weekend our U14 Girls and Boys competed in the HV Indoor Club Champs.
It was wonderful to see our boy enter a team after not fielding one in 2021. After entering a term 4 team, the boys were super keen to get together again and have a weekend of indoor hockey before the winter season takes hold.
Our girls backed it up from their 2021 second place to once again have an incredibly strong tournament. After finishing second in the group stage the girls fought out the remainder of the tournament to finish fourth overall against incredibly strong competition.
These weekends are not possible without the huge contributions of parents, coaches and team managers. FHC would like to thank David Gorton, Chris Provis Vincent, Mitch Braiden, Andrew Boyle, Emily Hooper and Charlie Keating for their time and effort over the U14 weekend!
We now move onto the U12 mixed team who will compete in the Indoor Club Challenge starting on the 18th March!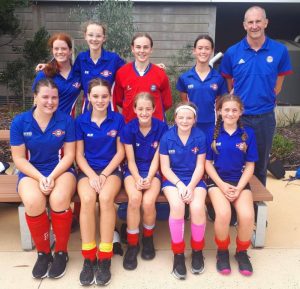 Pictured:
Back row: Zoe Brown, Ciara Virtuoso, Mai Lorenzen, Jaime Lam, David Gorton
Front row: Evelyn Boyle, Indi Long, Ruby Gorton, Erika Digney, Zoey Sykes